PLEASE NOTE NEW PHONE NUMBER!!!!!!!!!!!!!!!!!!!!!!!!!!!!!!!!!
I can also be phoned between 12:00PM AND 9:00 PM CST Monday - Friday at 281-430-4541
EUROPEAN TRASH CINEMA: THE MAGAZINE
ETC volume 1 #1-#12
$12.95 All the early ETC issues in one booklet !
Victor Israel interview
Alejandro Jodorowsky interview
Salvador Sainz interview
The legendary Death Laid An Egg extravaganza issue
Such a horrendously large amount of reviews that I frankly can't be bothered to list them !
**SOLD OUT**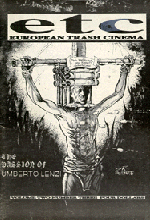 ETC #3 BACK IN STOCK!!
$15 ADD TO SHOPPING CART
Umberto Lenzi Special : Interview and Filmography
Valentina TV series
Michele Soavi interview
Reviews including The Sect, Eyeball, Human Animals, The Icebox Murders, La Morte Vivante, Nightmare Concert, Le Passage and Sweet Movie
ETC #8
SOLD OUT!!
French Film Special
Dario Argento's Trauma
Brigitte Lahaie interview and filmography
Jean Rollin interview and filmography
Claude Chabrol's trash movies
Reviews including Geissel Des Fleisches, Schamlos, Femmes Dangereuse, Women Behind Bars, Gungala - Nude Panther, Terror Express, Dracula And Company
ETC #9
$10 Add to Shopping Cart
Anniversary Issue
Enzo Castellari interview
Mylene Farmer profile
Antonio Pica interview
Femi Benussi profile
Reviews including Dracula In The Provinces, La Banda Vallanzasca, Murder By Design, Keoma, Dellamorte Dellamore
ETC #10
$10 Add to Shopping Cart
Carmen Russo profile
Enzo Castellari interview (continued)
The Black Emanuelle series
Antonio Pica interview (continued)
Review including Giallo A Venezia, Farewell Uncle Tom, Maya, Roma Violenta, Gang War In Milan, Count Dracula's Great Love
ETC #11
$10 Add to Shopping Cart
The Nico Giraldi series
Alberto De Martino interview
The films of Sergio Sollima
Reviews including Hitch Hike, The Perfume Of A Woman In Black, The Demons, Mil Sexos Tiene La Noche
ETC #12
$10 Add to Shopping Cart
Joe D'Amato interview
Brett Halsey interview and filmography
The films of Sergio Sollima (continued)
More reviews than you could shake your fist at ! Including Blood Delirium, Mean Frank and Crazy Tony, The Perfect Killer, Jonathan, The Erotic Rites Of Frankenstein, The Inglorious Bastards
ETC #13
$10 Add to Shopping Cart
William Berger interview and filmography
Alex De La Iglesia interview
Stelvio Massi's Mark The Narc series
So many reviews you could tango ! Including Golden Balls, The Forbidden Photos Of A Lady Above Suspicion, Quiet Days In Clichy, Les Deux Orphelines, Vampires, Don't Torture A Duckling
ETC #14 -SOLD OUT!!

Lucio Fulci tribute
Dellamorte Dellamore reconsidered
Is there no end to these remarkable reviews? Not when there are films like The Red Squirrel, Singapore Sling, Night Of The Walking Dead, Nightwatch and Lewd Young Girls out there
ETC #15 -SOLD OUT!!

Erika Blanc interview and filmography
Carlo Lizzani's crime films
Klaus Kinski profile
Dario Argento interview
A suitable side serving of reviews including The Stendhal Syndrome, Full House For The Devil, The Mad Foxes, The Seven Golden Men, Almost Human, The Girl From Trieste
ETC #16
$10 Add to Shopping Cart
Ken Clark interviewed
Donal O'Brien retrospective
Pamela Tiffin and Nicos (Singapore Sling) Nicolaides interviewed
Reviews including Confessions Of A Police Captain, Day Of The Cobra, Death In Haiti, Trans-Eurpop Express, Au pair Girl and Tender Flesh